Full Production Description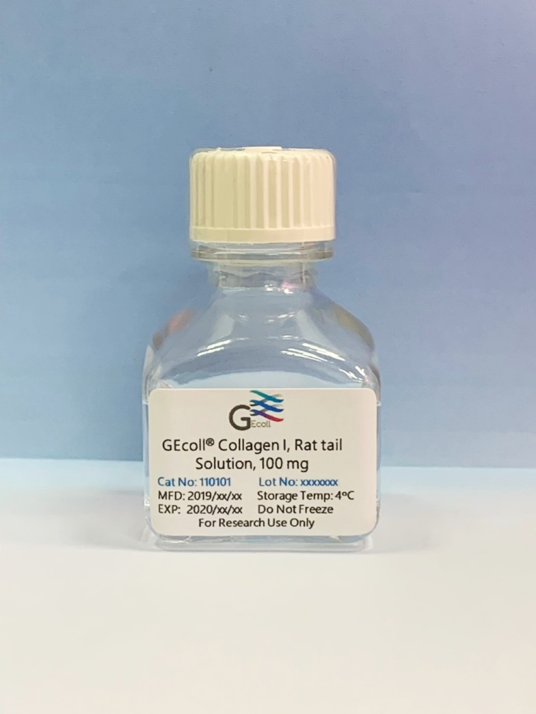 ※ For Research Use Only
GEcoll® Collagen I from Rat Tail is at a concentration of approximately 3 mg/mL in 0.01 N HCl, pH 2. GEcoll® Collagen I is soluble telo-collagen and is sterile filtered. This product provided in user-friendly package and instruction manual.
GEcoll® Collagen I is ideal for the thin coating of surfaces in 2D environments. It promotes cell adhesion for various cell types, such as hepatocytes, fibroblasts, spinal ganglion, muscle cells, Schwann cells, epithelial cells. Coating collagen I can be applied to the study of tumor cell invasion, migration and the chemotaxis of macrophages, monocytes.
 
---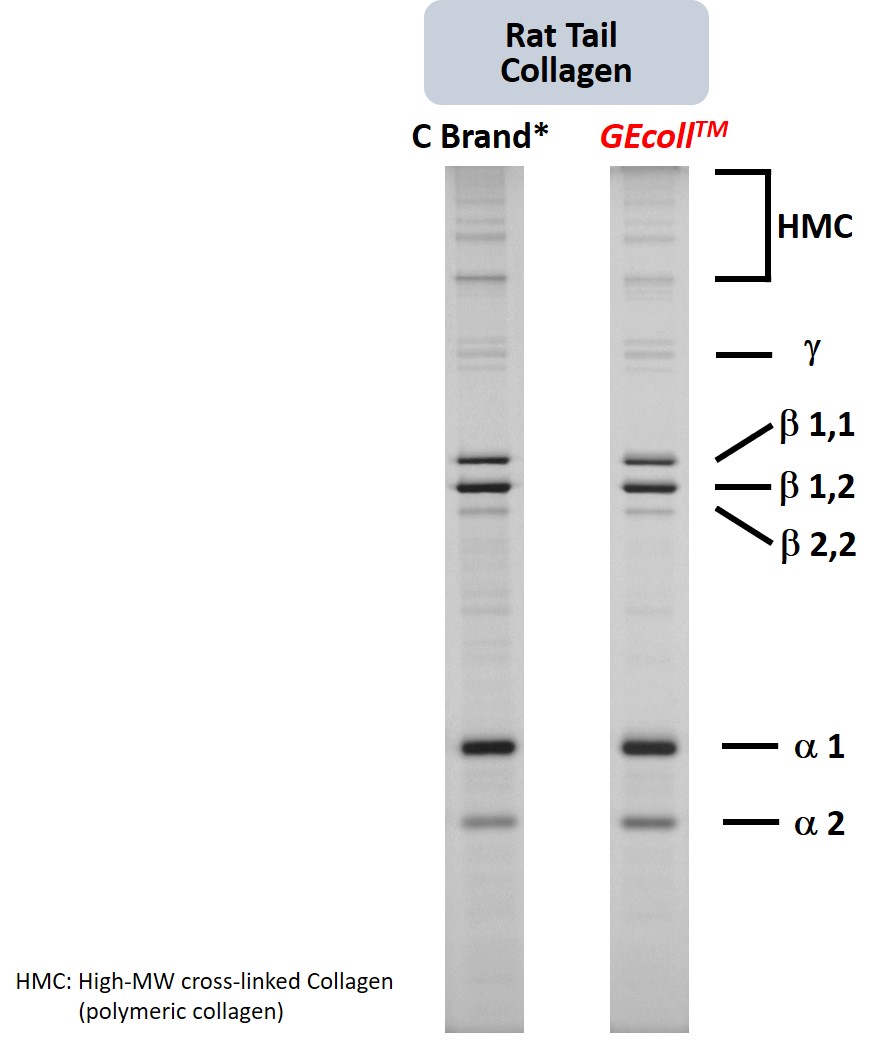 GEcoll® Collagen I contains higher proportion of  gamma-form
(complete heterotrimmer) collagen  than commercial brand product does.
---
 GEcoll® Collagen I
provides better environment for cell proliferation.
---
Product Pricing
100 mg     NT6,800元
Order Products
jamie@gecoll.com
+886-6-5055658#25 Mr. Lin
Technical Support
sctsai@gecoll.com
+886-6-5055658#21 Mr.Tsai


Product specifications
< There is still information to slide around. >
| | |
| --- | --- |
| Characterization | GEcoll ® Collagen I #110101 |
|  Source |  Rat Tail Tendon |
|  Form  |  Solution |
|  Package Size |  100 mg |
|  Sterility (USP) |  No growth |
| Endotoxin (EU/mL) /LAL | ≤ 1.0 |
|  Storage Temperature |  2 to 10 °C |
|  Expiration Date |  Listed on product label and Certificate of Analysis |
|  Collagen concentration /Biuret | 3.0 - 4.5 mg/mL |
|  Purity/Silver stain |  ≥ 95 % |
|  Electrophoretic Pattern/Silver stain |  Characteristic |
|  Cell Attachment Assay |  Characteristic |
|  pH |  2.0-3.0 |