Full Production Description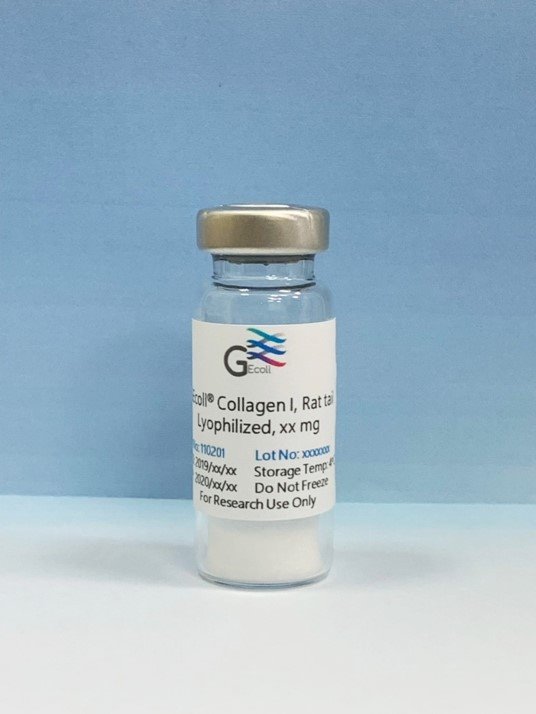 ※實驗室等級原料。
GEcoll® Collagen I is isolated from rat tail tendon. It is soluble telo-collagen and is sterile filtered. This product is supplied as a lyophilized powder with 15 mg of rat tail collagen. When reconstituted with 5 mL of sterile 0.01N HCl, a concentration of approximately 3-5 mg/mL is achieved.
GEcoll® Collagen I is ideal for the thin coating of surfaces in 2D environments. It promotes cell adhesion for various cell types, such as hepatocytes, fibroblasts, spinal ganglion, muscle cells, Schwann cells, epithelial cells. Coating collagen I can be applied to the study of tumor cell invasion, migration and the chemotaxis of macrophages, monocytes.
---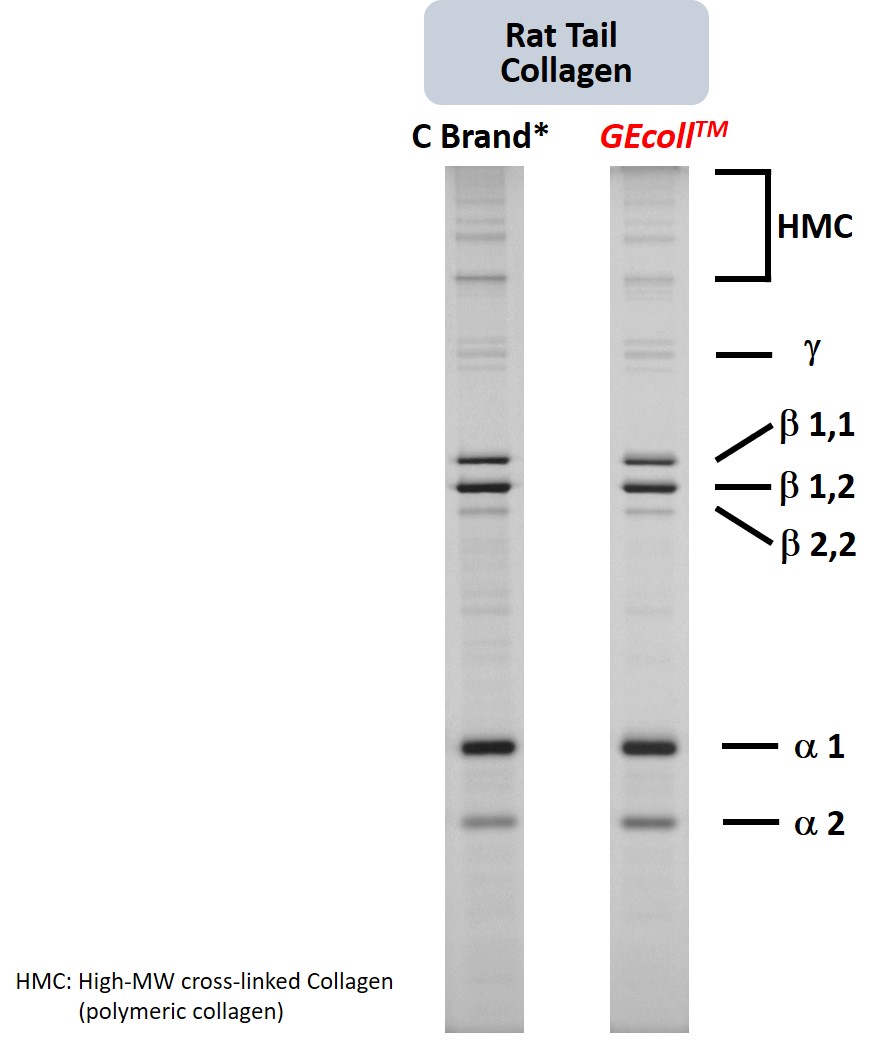 GEcoll® Collagen I
contains higher proportion of 
gamma-
form
(complete heterotrimmer) collagen
than commercial brand product does.
---
 GEcoll® Collagen I
provides better environment for cell proliferation.
---
產品定價
15 mg     NT4,500元
售價或活動優惠請電洽
購買聯繫
jamie@gecoll.com
06-5055658#25 林先生
實驗相關問題
sctsai@gecoll.com
06-5055658#21 蔡先生
產品規格
 
| | |
| --- | --- |
|  Characterization |  GEcoll® Collagen I #110201 |
|  Source |  Rat Tail Tendon |
|  Form  |  Lyophilized  |
|  Package Size |  15 mg  |
|  Sterility (USP) |  No growth |
| Endotoxin (EU/mL) /LAL | ≤ 1.0 |
|  Storage Temperature |  -20 °C prior to reconstitution and 2-10 °C after reconstitution |
|  Expiration Date |  Listed on product label and Certificate of Analysis |
|  Purity/Silver stain |  ≥ 95 % |
|  Electrophoretic Pattern/Silver stain |  Characteristic |
|  Cell Attachment Assay |  Characteristic |